Australian Lowlines are essentially 'miniature' Angus cattle that resulted from a 30 year research project conducted by the New South Wales State Department of Agriculture at their Agricultural Research Centre located at Trangie, Australia.
We have semen from 4 Bulls available.
› Wrangler 44H
› Duke 44J
› Zeke 54J
› Buzz 52K
Contact us about our embroys for sale.
member of:




American Lowline Registry




Australian Lowline Registry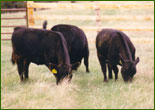 Ginny, Tilly & Polly
Spur Cattle Donor Cows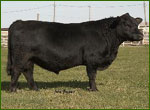 Buzz
Notice the thickness and tremendous hind quarter on these Lowline cattle.
Semen available